The two companies first teamed up last year and released the results of their initial pilot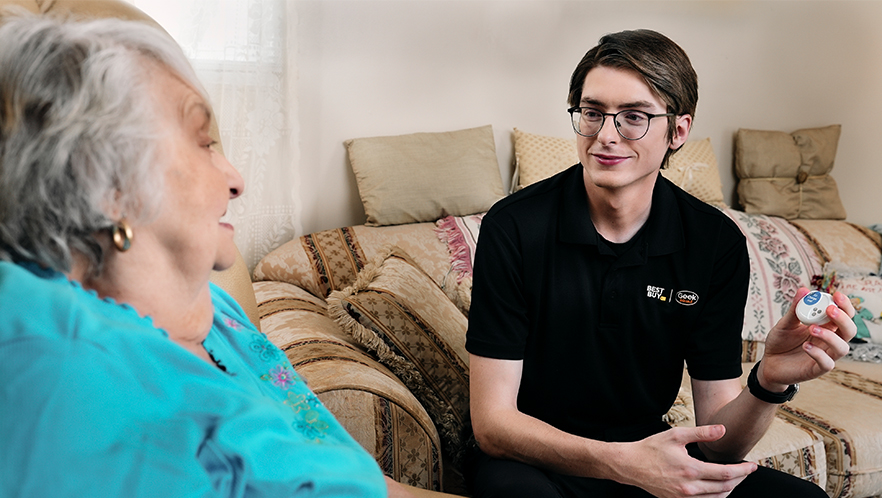 Best Buy has been in the at-home healthcare space since buying Current Health, a platform that combines remote patient monitoring, telehealth, and patient engagement, back in 2021. One of its first partnerships was with Geisinger: in July 2022, the two companies started to deploy specially trained Geek Squad Agents to deliver, install and activate remote care management devices.
Now, a little over a year later, the two companies are sharing some of the results of that pilot, which now involves 300 Geisinger patients, as well as the announcement of an expansion of their partnership.
For the patients who had access to the program, Best Buy and Geisinger shared that they showed a 50% reduction in the time it took to set up a device after admission into the chronic care-at-home program, from 96 hours to 48 hours.
On top that, they also showed a 19% improvement in how well patients follow their care plans by wearing and using their remote technology equipment more consistently, as well as an 18% reduction in technical issues reported.
Geisinger launched its ConnectedCare365 chronic care management platform in 2021, in which patients receive devices, such as blood pressure cuffs, body weight scales, thermometers and glucose meters, so they can monitor their health at home. That data is then transmitted back to their Geisinger care team through Current Health.
Through this pilot, Geek Squad Agents are able to educate patients on how to use the technology, answer questions about the devices, explain how to use them, and make sure they're transmitting data back correctly. Agents also remain on standby to help with troubleshooting as needed and to collect and process all devices once the patient is discharged from the program by their care team. Geek Squad Agents were also able to replace devices in the home within 24 hours of being reported.
Thanks to the results shown, the two organizations are going to be expanding their partnership, with a plan to design a package technology and services, with the goal of empowering patients and supporting healthcare organizations in the operation of their own chronic condition management programs.
"The results of our program show that when we combine what Best Buy is known for—technology support and expertise—with Geisinger's best-in-class care teams and network of clinics and hospitals, we can make a meaningful difference in the patient and caregiver experience," said Deborah Di Sanzo, president of Best Buy Health.
"Geisinger has been incredible in this work and we're very excited about our ability to scale these capabilities across the country to further Best Buy Health's goal to enable care at home for everyone."
This is not Best Buy's only foray into at-home healthcare. Earlier this year the company partnered with Atrium Health for a program that includes providing patient education, as well as helping implement technology in the home with the help of specially trained Geek Squad Agents to assist with logistics and technical support.
In addition to its work in at-home care, Best Buy Health previously partnered with GreatCall, a provider of health and safety solutions for older adults and their family caregivers, to launch a Lively App and Lively Wearable2 medical alert device. The company also began selling over-the-counter hearing aids in 2022, along with personal sound amplification products, TV amplifiers and hearing accessories.
(Image source: bestbuy.com)
Support VatorNews by Donating
Read more from our "Trends and news" series
September 26, 2023
The device comes equipped with real-time artificial intelligence features
Read more...
September 26, 2023
The startup celebrates raising an additional $6M in seed capital
Read more...
September 25, 2023
Story Health's platform has already been integrated into the WVU Medicine system
Read more...
More episodes
Related News