The DVD-by-mail sister to Netflix never launches and never will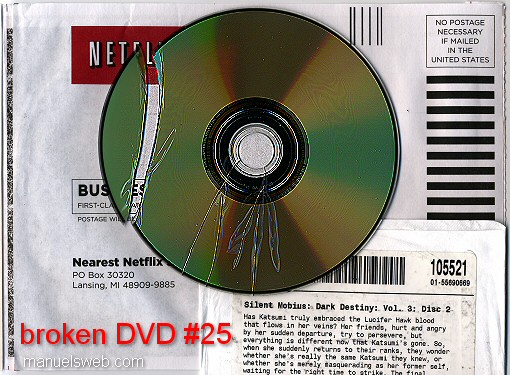 I don't know about any of you, but I am what is known as a Netflix Hoarder. As of this morning I had 468 DVDs and 347 streaming items in my queue -- and the uncertainty that came with the Qwister announcement caused A&E ratings gold-level anxiety.
Thankfully, all of those concerns were extinguished when Netflix CEO Reed Hastings announced the death of Qwister before it ever came to fruition.
In an early morning blog post, Hastings said that he realized that "two websites would make things more difficult, so we are going to keep Netflix as one place to go for streaming and DVDs."
The public first learned of Qwikster in a, now infamous, apology blog that Hastings posted three weeks ago. Hastings said in that post that the name of Qwikster was chosen because "it refers to quick delivery."
While the public never got to experience any of the speedy movie delivery promised, Qwister (and Hastings) quickly became the source of a lot of comic relief. Within hours of the division of Netflix services and websites, it was discovered that the company made this announcement in haste and had neglected to procure the @Qwikster Twitter handle.
A man listed as Jason Castillo gained followers by the thousand and on September 19 he learned that his handle was gaining traction quickly and that Netflix had not previously contacted or warned him of the possible identity confusion. At one point, @Qwikster was tweeting about negotiating a sum of money for handing over the in-demand handle but many of those tweet aren't in his timeline any longer.
Much of the concern coming from Netflix faithfuls was how the company changed its pricing structure by separating the streaming price from the DVD price and hiking the overall cost by 60%. Customers that were paying $9.99 per month for one DVD at a time and unlimited streaming package were going to start paying $15.98.
Then when the company announced it would be segregating the services to two different sites, customers were confused and irritated that what made the content viewing alternative quick and easy, was going to become a multi-step, multi-transactional process.
Another source of irritation was having the public learn the new and intuitive-less spelling of Qwikster when name continuity is so key to customer recognition and satisfaction.
There was also little talk of whether current customers' queue would transfer over to the new site and if preferences would be saved on the new DVD by mail service.
The morning of the Qwikster announcement, Netflix's (NASDAQ: NFLX) stock opened at 155. Monday morning was set to open around 117 and was showing a more than 9% promise of growth in the pre-market activity.
Netflix has managed to stay in the headlines as it took consumer outcries of subpar streaming content seriously by recently signing hundreds of new movies from the studio giants such as MGM, Fox, Paramount and Sony, as well as adding thousands of new TV episodes including the audience draws Breaking Bad, The Walking Dead and lots of content for the kiddies.
While Netflix stands by the pricing change and refers to it as "necessary," it seems as though the Internet full of squeaky wheels are getting a lot of what they demanded and more people will be buffering than picking up pitchforks and demanding Hastings' head on a stake.
I know that I feel much better knowing that none of my binge consumption of the media will be interrupted and I can limit my hoarding to one website, rather than two.
Image source -- Manuelsweb.com
Support VatorNews by Donating
Read more from our "Trends and news" series
December 04, 2023
From telehealth, the startup is expanding offline to make health care more accessible
Read more...
December 04, 2023
xAI's generative AI platform is available to limited users, with more to come
Read more...
December 01, 2023
Using AI to gather data, this startup aims to make in-person events more effective for attendees
Read more...
More episodes
Related News