The company partnered with Vietnamese fintech company MoMo for flexible payment options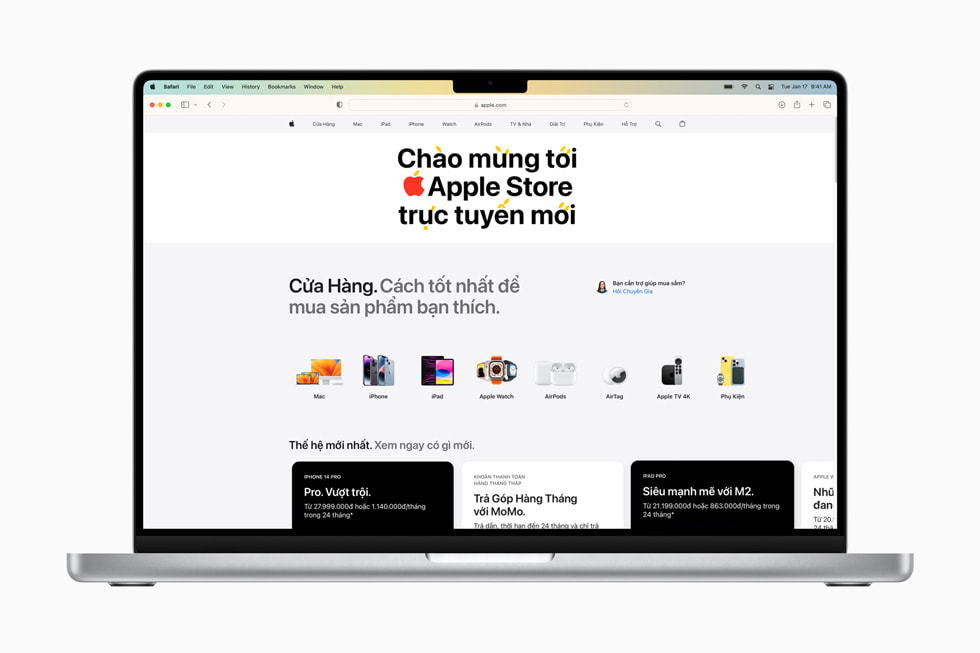 Apple has been growing its presence in Asia: earlier this year, the company overtook Xiaomi to become the second most popular smartphone brand on the continent, with 17.15%, compared to 22.25% for Samsung. The company also recently opened its first stores in India, starting with one in Mumbai in April.
Now it's expanding into yet another country: Vietnam, with the announcement of the availability of its online in the country. That means that Vietnamese customers will be able to shop directly with Apple, including the iPhone 14 lineup, while also connecting with the company's team of experts, and then have their products delivered to them.
Customers can personalize their iPad, AirTag, AirPods, and Apple Pencil with a mix of emoji, text, and numbers including free engraving. They will also have access to support of online experts and Apple's retail services, including the Apple Trade In program, which will allow customers in Vietnam to trade in their old device and receive credit toward a new one. If their device is not eligible for a credit, Apple will recycle it for free.
"Customers are always at the center of everything we do, and we're thrilled to bring the Apple Store online to Vietnam," Deirdre O'Brien, Apple's senior vice president of Retail, said in a statement.
"With today's expansion, we're proud to offer customers an incredible new way to discover and shop for our amazing products and services, connect with our knowledgable team members, and experience the best of Apple."
In conjunction with this news, MoMo, a Vietnamese fintech company, announced the launch of monthly Instalments for Apple Store Online. Alongside a one-time payment option, customers who choose to use MoMo Instalments for Apple Store Online can also split their purchase into 6 to 24 monthly instalments with a 20% down payment plus monthly interest rates.
"In 2019, MoMo was the first e-wallet in Vietnam to become a payment method for App Store. We are excited to provide more flexible payment options to Vietnamese customers when purchasing their favourite products from Apple Store Online, while helping them to more easily manage their finances," Do Quang Thuan, Senior Vice President in charge of the Financial Services Division at MoMo, said in a statement.
There is no indication if Apple intends to open a physical store in Vietnam, as it recently did in India.
Its first store, located in Mumbai, in the Bandra Kurla Complex financial, arts, and entertainment district, is designed with a triangular handcrafted timber ceiling made from 408 pieces of timber and 1,000 tiles. There are over 450,000 individual timber elements, all of which were assembled in Delhi.
(Image source: apple.com)
Support VatorNews by Donating
Read more from our "Trends and news" series
September 21, 2023
At the fusion of fintech and medical research, Mural is modernizing the patient-trial connect
Read more...
September 20, 2023
Those tools include voice and screen-based activations that reduce manual work for physicians
Read more...
September 19, 2023
The firm invests in early-stage startups combating loss of biodiversity
Read more...
More episodes
Related News