s digital health technology continues to advance and the healthcare industry evolves, many Americans
The silver lining of the pandemic was the advancement of digital and virtual care, which helped address some of the access gaps, be they based on geography, race, social status, mobility issues, or sexual orientation, that existed in healthcare for many, many years.
Not surprisingly, a study released by Elevance Health (formerly Anthem) shows that people overwhelmingly like the experience and plan to continue using it, though there is still work to be done, as most people have never used it and the majority have never heard of it.
The survey, which was talked to 5,009 adults in March, found that most people, 68% of those asked, had never used virtual primary care services; of the 32% who had access these services, 16% had used it for prescriptions, 9% for general wellness/treatment plans, 8% for a wellness visit, and 7% for an urgent or non-urgent medical problem.
Of those who used virtual primary care, the vast majority, 94% were satisfied with their experience, and 79% said it allowed them to take charge of their health. On top of that, 73% like virtual primary care or find it appealing, with 35% citing the convenience factor, and 31% saying it they liked it because of accessibility, while 30% said it was because of the ease of use.
The vast majority, 84%, also said virtual primary care was "very useful during the pandemic," and that they plan to continue using it, even as pandemic conditions improve. In fact, more than 50% of those with a primary care physician say they are likely to use virtual care in addition to the care they receive within the next year, while 39% said it will become their main source of primary care in the same time period.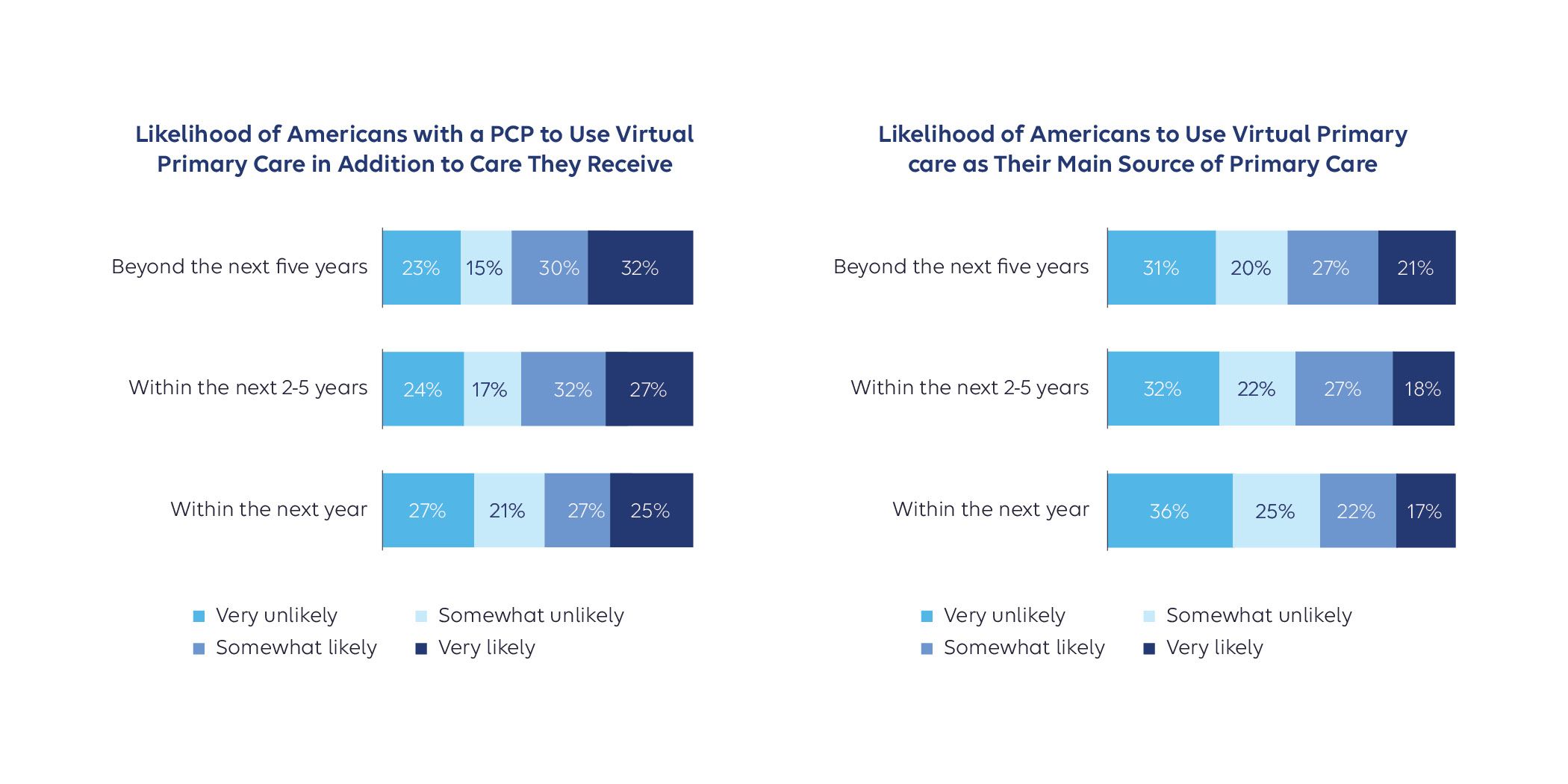 Perhaps most importantly, 71% of Americans believe the healthcare system is changing for the better with the inclusion of virtual primary care, and 83% believe it is a great way to increase access to healthcare for people who may otherwise be unable to visit a provider in person.
People with a chronic condition are more familiar with virtual primary care, 52% versus 42% of people without a chronic condition, and they are also more likely to have ever used virtual primary care, with 36% compared to 25%.
There is still work to be done though, especially around education of what virtual primary care is, as only 48% of those surveyed were familiar with the term, and of those who haven't used it 31% said it was because they believe that doctors need to see their problem in person to know what is wrong, and 21% said they don't know if it is covered by their insurance, so they feel it may cost more.
"Consumers are using digital technologies at an accelerating pace, and consistent with this, we're seeing at Elevance Health use of telehealth that is nearly 20 times greater than pre-pandemic levels," Rajeev Ronanki, President of Digital Platforms at Elevance Health, said in a statement.
"Virtual primary care gives individuals the opportunity to work with innovative services that make healthcare more convenient, accessible, and fit into their increasingly busy schedules. The study's findings reiterate the desires of consumers to use digital technology – along with using traditional in-person care options – to take control of their health."
(Image source: elevancehealth.com)
Support VatorNews by Donating
Read more from our "Trends and news" series
October 02, 2023
Students get paid internships as rehabilitation aides, food service workers, and material handlers
Read more...
September 27, 2023
They include Viridis Terra, Komaza, CH4 Global, Teffaformation, and Dendra Systems
Read more...
September 27, 2023
It brings workflows from disparate systems into one platform so L&D teams can show their value
Read more...
More episodes