Healthcare in politics, week 1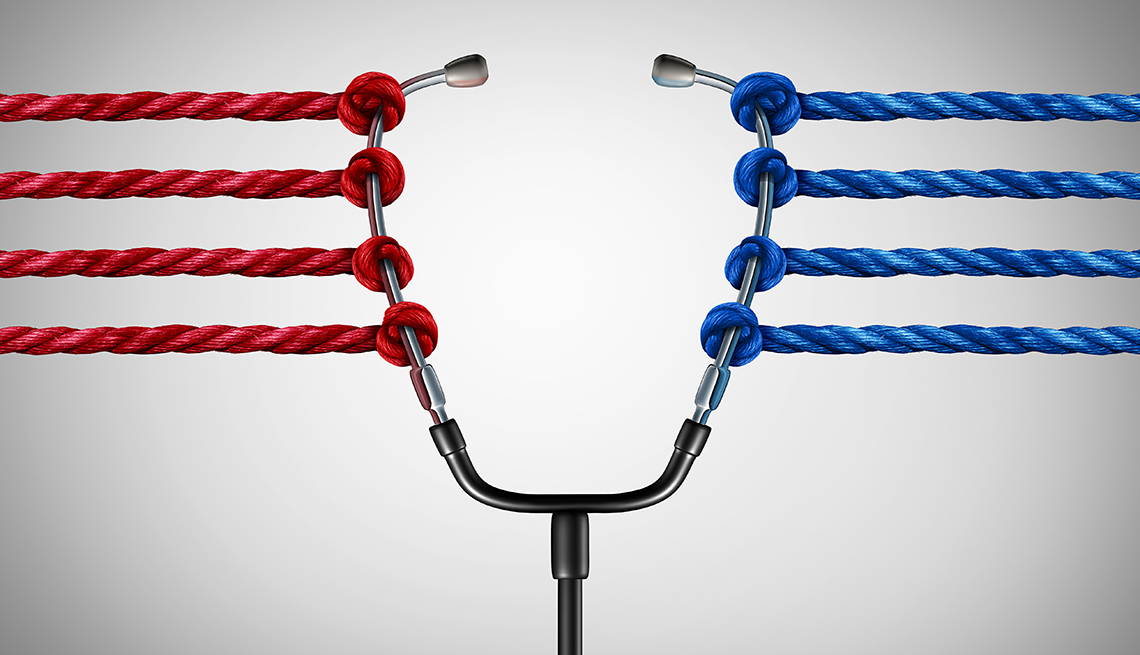 Healthcare has been hot button a political issue for decades, with fights over Medicare going back to the mid-60s. The issue has been especially fractious over the last decade with the implementation of the Affordable Care Act, which passed without a single Republican voting for it.
It's with that backdrop that we now find ourselves in the midst of what HHS declared on January 31, 2020 to be a public health emergency. COVID-19 has upended the healthcare system in ways that nobody could have foreseen; thanks, in part, to CMS waiving telehealth regulations in April, combined with the necessity of using virtual care to see a doctor, that sector has been explosive growth in just a few months.
As this is an election year, the delineations between what the two sides believe in, and their vision for how healthcare should work, will be made clear. That is what will be discussed at the Healthcare in Politics salon, hosted by Vator, HP and UCSF Healthhub, on September 30. Every week until then we will be doing a roundup of some of the biggest healthcare news and what Trump, Biden and the biggest healthcare agencies are up to:
US hits record number of COVID cases six times in 10 days
There were more than 59,880 new cases of Coronavirus reported across the United States on Thursday, setting a single-day record. That is the sixth time a record has been set for new cases in 10 days, according to a New York Times database. The increase is mostly coming from states in the South and Western parts of the country.
The country reached a peak of 36,739 new cases on April 24, which was then broken on June 24.
Alabama, Idaho, Missouri, Montana, Oregon and Texas all set new records on Thursday, with Texas setting a new record for the fourth day in a row with 10,900 new cases.
In addition, both Florida and Tennessee saw 22 deaths in a single day, a record high for both states. Florida has reached capacity in 40 intensive-care units across 21 counties and in Mississippi, five of the largest hospitals in the state have run out of I.C.U. beds.
The Trump administration submitted its withdrawal notification from the World Health Organization to the United Nations secretary-general on Tuesday. This comes after the president froze funding for the WHO in April, followed by an announcement at the end of May that the U.S. was "terminating" ties with the WHO. The US contributes more than $400 million annually to the WHO, making it the group's largest contributor.
The move was criticized by both Democrats and Republicans.
Sen. Bob Menendez, the top Democrat on the Senate Foreign Relations Committee, tweeted, "To call Trump's response to COVID chaotic & incoherent doesn't do it justice. This won't protect American lives or interests — it leaves Americans sick & America alone."
Lamar Alexander the Chair of the Senate Committee on Health, Education, Labor and Pensions said he disagreed with the president's decision.
"Certainly there needs to be a good, hard look at mistakes the World Health Organization might have made in connection with coronavirus, but the time to do that is after the crisis has been dealt with, not in the middle of it," he said.
The decision to pull out of the WHO has to do with its inability to stop COVID-19. The WHO first learned of a disease in Wuhan on Dec. 31, though the disease was likely there six weeks earlier.
Withdrawal requires a year's notice, so it will not go into effect until July 6, 2021. In a tweet, Joe Biden said that is he were elected president he would reverse the order.
"Americans are safer when America is engaged in strengthening global health. On my first day as President, I will rejoin the @WHO and restore our leadership on the world stage," he wrote.
Supreme Court exempts employers from ACA birth control mandate
The U.S. Supreme Court on Wednesday ruled 7-2 to allow employers to opt-out of the Affordable Care Act mandate guaranteeing no-cost contraceptive services for women.
The ACA requires insurers to include "preventive care and screenings" as part of "minimal essential coverage" for Americans, but it left to HHS to define what services qualify. Contraceptives were initially included until 2018, when the Department of Health and Human Services issued a regulation allowing employer with a religious or moral objection to contraception to opt-out of a requirement that they be covered in an employee's health insurance plan. Seventeen states, led by Pennsylvania and New Jersey, challenged the policy.
The majority opinion was written by Justice Clarence Thomas, determining that the law gives the administration "virtually unbridled discretion" to decide what counts as required coverage and any religious and moral exemptions that may be necessary.
Chief Justice John Roberts and Justices Samuel Alito, Neil Gorsuch, and Brett Kavanaugh joined Thomas' opinion. Justice Elena Kagan filed a concurring opinion in the judgment, in which Stephen Breyer joined. Justices Ruth Bader Ginsburg and Sonia Sotomayor dissented.
"As the government estimates, between 70,500 and 126,400 women would immediately lose access to no-cost contraceptive services" under the judgment, Ginsburg wrote.
Trump plans to sign executive orders to lower drug prices
White House Chief of Staff Mark Meadows said on Thursday that the President will sign three executive orders with the goal of lowering prescription drug prices,
"This president is going to do three different executive orders that will substantially make sure that the average American gets to pay less for their prescription drugs," Meadows said in an interview on Fox Business Network.
There was no detail given on what the orders would say, or when they would be signed.
This comes after the House of Representatives passed a healthcare bill that includes provisions to cut prescription drug prices on Monday, legislation that is expected to be blocked in the Senate.
A
recent report
from GoodRx found that the price of 42 prescription drugs had risen from the just the beginning of the month, with an average increase of 3.5 percent.
Biden and Sanders team up on policy proposal, release healthcare plan
A series of task forces formed by Joe Biden and Vermont Senator Bernie Sanders released a 110-page policy wish list to recommend to the party's presumptive presidential nominee.
A total of six task forces made policy recommendations in the areas of climate change, criminal justice reform, economic fairness, education, health care and immigration.
"The Task Force recognizes that COVID-19 has accelerated the need for affordable, accessible, and equitable health care. Even before the pandemic, too many Americans went bankrupt every year because of out-of-pocket costs, too many seniors had to ration their prescription drugs, and too many Americans went without health care coverage at all," the document says.
"COVID-19 has so far taken over 130,000 American lives, and destroyed even more livelihoods. With nearly a quarter of Americans out of work, the health care challenges Americans faced before the pandemic are even more acute."
Among the recommendations in the plan is a public option plan administered by Medicare.
"The Task Force recommends Democrats meet this moment by guaranteeing free or low-cost health care coverage for every American, including by expanding Medicaid, subsidizing employer health insurance for people who lose their jobs, and offering a high-quality low or no cost public option available without a deductible and with automatic enrollment for those who qualify throughout the COVID-19 crisis," it says.
The task force also recommends that the age to enroll in Medicare would be lowered from 65 to 60.
"For the 4.8 million adults who should be eligible for Medicaid, but who live in states where Republican governors have refused to expand the program, Democrats will make the public option available without premiums. And we will enable millions of older workers to choose 32 between their employer-provided plans, the public option, or enrolling in Medicare when they turn 60, instead of having to wait until they are 65."
(Image source: wwhealth.org)
Read more from our "The Future of Healthcare" series
October 06, 2020
Investments into precision medicine companies is rising, but how much has it helped?
Read more...
October 06, 2020
Simcox will be a part of Vator's Healthcare in Politics salon on October 7
Read more...
October 05, 2020
Krigstein will be a part of Vator's Healthcare in Politics salon on October 7
Read more...
More episodes