Crosslink Capital leads Series C round in pen that provides audio recording and playback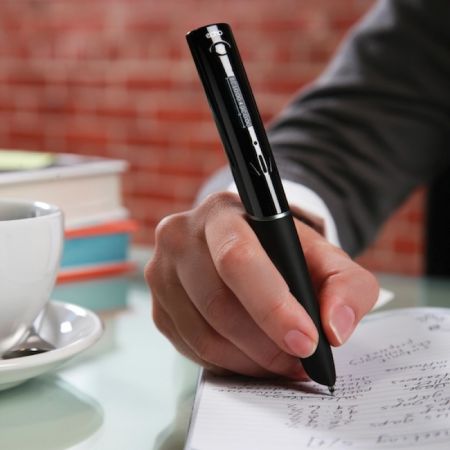 While many schools throughout the United States are embracing technology as a learning-enhancement tool, technology and the classroom do not always go together seamlessly. Many professors throughout the country have instituted "no laptop" policies in their classrooms because too often a student gets caught up playing Farmville and not only risks missing the lecture entirely, but also brings down the classroom dynamic by being that weird kid who doesn't say anything.
SmartPens may provide a remedy to that problem.
Livescribe, announced Wednesday that it has raised $39 million in a third round of funding, led by Crosslink Capital, with participation from Scale Venture Partners, Qualcomm, TransLink Capital, Presidio Ventures, Keating Capital, and existing investors VantagePoint Venture Partners, Lionhart, and Aeris Capital. Michael Stark of Crosslink and Rory O'Driscoll of Scale will join Livescribe's board.
The Oakland, Calif.-based startup has sold over 500,000 pens since launching in 2008, and has made more than $100 million. The Echo, which has a sleeker design and more storage capacity than the Pulse, is available for $169.99 for the 4GB version or $199.95 for the 8GB version, while the Pulse is available for $129.99 and $169.99 respectively.
The pen innovation
Livesribe's SmartPens look awkward and unwieldy, which can be a problem for those of us who barely have the dexterity to handle a regular pen, but they pack some very cool student-friendly features, including audio recording and playback. A microphone in the pen records the lecture while the student is taking notes (the pen holds between 400 and 600 hours of audio recording), and then by tapping a spot on the notes, the pen will play back the sound that was recorded at that point.
By plugging the pen into your computer, you can also save, rearrange, edit, and compile notes, and a search feature lets you look for a specific term or passage among your own writing.
The pen uses a high-speed infrared camera in the tip that works with dot positioning system (DPS) technology to read microdots in the paper. So you can't use just any paper; you have to use "dot paper," which the company provides.
The popular new kid at school
K-12 schools are jumping on the pens, which offer unique opportunities to engage with different learning styles. It has long been known that students remember lectures more clearly when they are actively taking notes, but for students who have trouble processing visual information when they go back to their notes later on, the SmartPen's audio features will enable them to learn more efficiently.
The pen can also deliver visual aids for instructors through "pencasts." By hooking the pen up to a computer, the instructor can write down terms and draw diagrams for students to see, which sounds cool but no more efficient than a whiteboard.
One feature that could be on the horizon is the instant translation of audio recordings into type-written text. Neither of the two models that Livescribe manufactures -- the Pulse or the newer Echo -- however, have this capability. Then again, you wouldn't really need a pen for that, would you?
The smartpen landscape
Founder and CEO Jim Marggraff was also the creator of the LeapPad, an interactive "tablet" (which is actually quite bulky and heavy) for children. Utilizing similar technology, the LeapPad allows children to use a special pen to interact with storybook text to facilitate reading.
Other companies have come out with their own SmartPens, such as the Dane digital zPen, which downloads handwritten notes directly to the user's computer and does not require special paper. Most other SmartPens are significantly cheaper, too, but most only record notes and do not offer the audio playback or pencast features that Livescribe pens offer.
Livescribe could not be reached for comment, but in the company's press release it stated that it plans to use the money raised in its series C round to expand into new markets and advance the company's platform in the area of communication and collaboration.
Image source: laptopdrv.net
Support VatorNews by Donating
Read more from our "Trends and news" series
December 07, 2023
The deal will double imaware's B2B clients, and grow its patient count by 50%
Read more...
December 06, 2023
Healthtech, fintech, and AI all stayed strong, even as funding dipped 16% from 2022
Read more...
December 05, 2023
The company will be building out an AI moduel to help companies deal with upcoming regulations
Read more...
More episodes
Related News