Google stops self-censoring, China takes the baton, Baidu showing great financial promise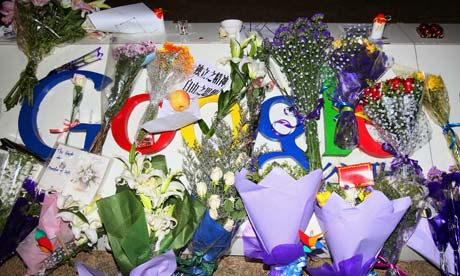 As expected, China is not reacting favorably to Google's bold and staunch refusal to no longer self-censor results on its Chinese search portals.
Google on Monday
made good
on its decision to stop censoring Google.cn search results, a move catalyzed by company findings in January that cyber attacks on Chinese activists in the United States had originated in China itself. Instead of shutting down operations in China entirely, the company simply closed down Google.cn and instead redirects all users in the country to Google Hong Kong, which is now uncensored by Google. The action is "entirely legal," noted Google's chief legal officer David Drummond.
Legal or not, the move has, as expected, China responding swiftly. First of all, multiple sources report that Google Hong Kong is already being censored by China so that sensitive content, like any information related to the Tiananmen Square protests of 1989, is unavailable.
Though Google offers a
page
that lists availability of certain Google services--Web, Images, YouTube, and others--alongside their current status (no issues, partially blocked, blocked, etc.), the page has not been updated since Sunday.
Taking steps a bit further, the Chinese government may be urging China Mobile to end talks over a search deal with Google and China Unicom could cancel plans to launch an Android phone.
If anyone benefits from the the row between Google and China, it's Baidu, the most popular search engine in China. Goldman Sachs, which expects Google's Hong Kong search site to run slowly if at all, raised its price target for Baidu from $575 to $675, according to
MarketWatch
. The broker believes Baidu could take 33-75% of the traffic Google.cn used to receive.
Support VatorNews by Donating
Read more from our "Trends and news" series
January 12, 2023
The bot will provide education, while also flagging potential problems before they become serious
Read more...
December 19, 2022
The company, fresh off a $4M round, looks to bring tech to treatment for chronic autoimmune disease
Read more...
December 16, 2022
The new program will at first be available to 40,000 Superior Healthplan members
Read more...
More episodes
Related News