AlwaysOn Summit at Stanford panel offers advice to companies interacting with the federal government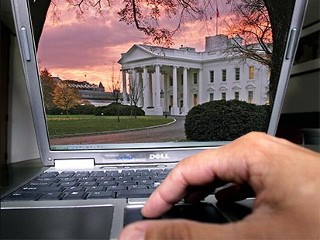 In reply to the question, "Why go to D.C.," DBL Investors Managing Partner Nancy Pfund retorted, "Why not?"
Such was the consensus today between a panel of venture capitalists and tech-government relations experts, in a conversation covering the relevance of government policy to private company ecosystems. Goodwin Procter Partner Elise Zoli moderated the panel this afternoon in a short session at the seventh edition of the AlwaysOn & STVP Summit at Stanford.

Joe Kennedy, CEO of Pandora, garnered a bit of applause during his introduction, seemingly as congratulations for his legal victories in Washington announced in the first week of July. The Webcaster Settlement Act of 2009, proclaimed the piece of legislation that saved online radio, gives online radio stations and the recording industry a chance to come up with revenue sharing models.

Speaking from experience then, Kennedy emphasized the fact that even though most startups may be new to their industry or, like Pandora, even inventing a new industry, there already exists an "incumbent industry," one deeply integrated into Washington and its laws. In Pandora's two-year battle, Kennedy was going up against the recording industry, a coalition of companies that has been in Washington since the dawn of recording itself.

Agreeing that "incumbents are, of course, first in line," NEA Partner Jon Sakoda still thinks it important to make Washington a partner. He said that companies cannot just go to the capital asking for whatever they want, but must prove their value by "explaining why their slice of the pie is important."

Pfund reiterated this point, saying, "you shouldn't go in thinking you deserve anything. You need to build a case, understand the needs of the people you're talking to." Congressmen get interested when a company translates their case into terms of job creation, tax revenue, or even global warming solutions.

The Vice President of Government and Political Affairs for TechNet, Betsy Mullins, mostly agreed with the rest, adding that, though lobbyists are very important in having somebody putting extended time into Washington, it is much more powerful for a CEO to make a trip to the capital, to personally interact with politicians.

As an example of this, Kennedy came off particularly touched by his interactions with Los Angeles congressman Howard Berman, nearly attributing the success of Pandora's campaign in Washington to one solitary moment between the CEO and politician.

All in all, the panel appeared to forward three main points: know what you want, know that you don't deserve it, and know how you can earn it. Tech startups who engage with Washington in a forward-thinking and everybody-wins manner will lead them to the desired fruits of their labor.
(image source: ABC News)

Support VatorNews by Donating
Read more from our "Trends and news" series
March 23, 2022
This comes even as the majority say that telemedicine is decreasing as in-person visits return
Read more...
March 23, 2022
The companies are working together to connect entrepreneurs with acquisition opportunities
Read more...
March 22, 2022
CodeSignal, an interview and assessment platform, has partnered with ColorStack to help drive change
Read more...
More episodes
Related Companies, Investors, and Entrepreneurs
Startup/Business
Joined Vator on
Pandora, the leading internet radio service, gives people music they love
anytime, anywhere, through a wide variety of connected devices: laptop and
desktop computers, smartphones, connected BluRay players, connected TVs,
etc. Personalized stations launch instantly with the input of a single "seed" –
a favorite artist, song or genre. The Music Genome Project®, a deeply
detailed, hand-built musical taxonomy, powers the personalization or
Pandora. Using this musicological "DNA" and constant listener feedback
Pandora crafts personalized stations from the more than 800,000 songs that
have been analyzed since the project began in January 2000.
More than 75 million people throughout the United States listen to
personalized radio stations for free on Pandora through their PCs, mobile
phones and devices such as the iPad, and connected in-house devices
ranging from TVs to set-top boxes to Blu-Ray players. Mobile technology has
been a significant factor in the growth and popularity of Pandora, starting
with the introduction of the Apple app store for the iPhone in the summer of
2008. Pandora instantly became one of the most top downloaded apps and
today, according to Nielsen, is one of the top five most popular apps across
all smartphone platforms.

Pandora is free, simple and, thanks to connectivity, available everywhere
consumers are – at the office, at home, in the car and all points in between.
In 2009 the Company announced that Pandora would be incorporated into
the dashboard in Ford cars via SYNC technology; GM has already followed in
announcing plans to integrate Pandora into its vehicles and Mercedes-Benz
introduced their Media Interface Plus device that works with the
free Pandora iPhone app to provide direct control of Pandora from in-dash
stereo controls. This was all great news for the millions of Pandora listeners
who had been plugging their smartphones into car dashboards to listen to
personalized stations while driving. More than 50 percent of radio listening
happens in the car, making it a crucial arena for Pandora.

Today tens of millions of people have a deeply personal connection with
Pandora based on the delight of personalized radio listening and discovery.
These highly engaged listeners reinforce the value Pandora provides to: 1)
musicians, who have found in Pandora a level playing field on which their
music has a greater chance of being played than ever before; 2) advertisers,
who benefit from the multi-platform reach of Pandora, as well as its best
practices in targeting consumers for specific campaigns; 3) the music
industry, which has found in Pandora a highly effective distribution channel;
and 4) automobile and consumer electronics device manufacturers, who have
noted that incorporating Pandora into their product makes it more valuable
to consumers.

Pandora continues to focus on its business in the United States. The radio
arena has never been hotter, thanks to technology that enables radio to be
personalized to the individual and more accessible than ever before. Right
now millions of people listen to Pandora in the United States and we hope
someday to bring Pandora to billions of people around the world.

Timeline:
• 2000 – Tim Westergren's Music Genome Project begins.
• 2005 – Pandora launches on the web.
• 2008 – Pandora app becomes one of the most consistently downloaded
apps in the Apple store.
• 2009 – Ford announces Pandora will be incorporated into car
dashboard. Alpine and Pioneer begin selling aftermarket radios that
connect to consumers' iPhones and puts the control and command of
Pandora into the car dashboard.
• 2010 – Pandora is present on more than 200 connected consumer
electronics devices ranging from smartphones to TVs to set-top boxes
to Blu-ray players and is able to stream visual, audio, and interactive
advertising to computers, smartphones, iPads, and in-home connected
devices.