Startup is "neurotic" about pleasing users, advertisers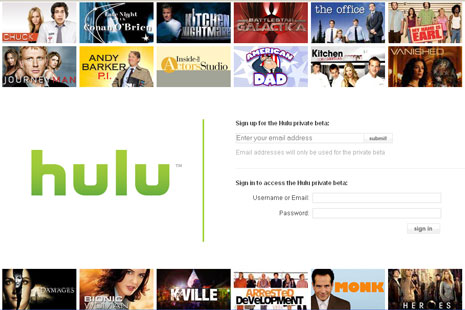 The CEO of Hulu says the online video service is making a big impact on the Internet business of Fox and other networks that supply it content.

"Fox's overall online business has more than tripled since Hulu launched" on March 12, CEO Jason Kilar told an audience at the NewTeeVee Live conference in San Francisco.
Kilar cited market share numbers that showed Hulu had 12 million monthy users and 145 million video streams in September. Hulu's player has been embedded 1.5 million times on 60,000 Web sites, he said.
Fox and NBC are the major investors and content suppliers to Hulu, but the startup also carries content from Warner Bros., MGM, Comedy Central, Paramount and others.
Kilar wouldn't share revenue figures, but argued that, if the history of premium TV content is any guide, the Hulu business model of delivering ad-supported, free content will be much larger than that for pay-as-you-consume content.
"There's no free lunch," Kilar said, meaning advertising is needed to pay the bills.
The difficulty that the music industry has had in trying to charge for online tunes backs up what Kilar is saying. An entire generation is used to getting its tunes for free. And by all accounts, the biggest seller of online music and video, iTunes, doesn't charge enough to make money for itself or its content partners. They do sell plenty of iPhones and iPods.

The rise of YouTube and BitTorrent also cast doubt that the video industry will have any better luck than the music industry in charging per unit of content. Given Hulu's fast growth, Kilar's prediction that people would prefer ad-supported content over shows they have to pay for looks credible for now. Ultimately, though, there likely will be a mix of models between subscription, ad-supported and pay-per-view services.

To argue his point, Kilar cited the example of a consumer who buys a DVD of a premium cable show for $30. While the network that owns the content makes a lot of money off that one consumer "there are very few people who will fork over $30 for season one of Mad Men," Kilar says. Meanwhile, advertisers will be willing to pay to get in front of a large number of viewers.
The market for ad-supported premium video is $80 billion, compared to $20 billion for what Kilar called the "transactional market," which includes DVD sales and pay-per-view events.
Hulu is experimenting with allowing users some choice over which ads they see, such as choosing from one of three Toyota ads for different models, and gives them the chance to rate the ads they see.
While that's a step forward, my guess is a large portion of Hulu viewers won't engage with or even view any ads that aren't targeted and relevant to them.

The company's goal is to build a service that improves brand recall for advertisers and motivates purchase behavior by users, Kilar says.
He also admitted that the launch of Hulu, which took it's time getting a name and a working Web site, was "humbling".
Kilar said the company'g growth has ben helped by its obsession with every facet of the site, from which fonts to use to the size of the Hulu logo on the page.
"Being neurotic is a good thing for users," he says.

Support VatorNews by Donating
Read more from our "Trends and news" series
September 21, 2023
At the fusion of fintech and medical research, Mural is modernizing the patient-trial connect
Read more...
September 20, 2023
Those tools include voice and screen-based activations that reduce manual work for physicians
Read more...
September 19, 2023
The firm invests in early-stage startups combating loss of biodiversity
Read more...
More episodes
Related News