The two companies partnered with for ŌURA's expansion across US earlier this year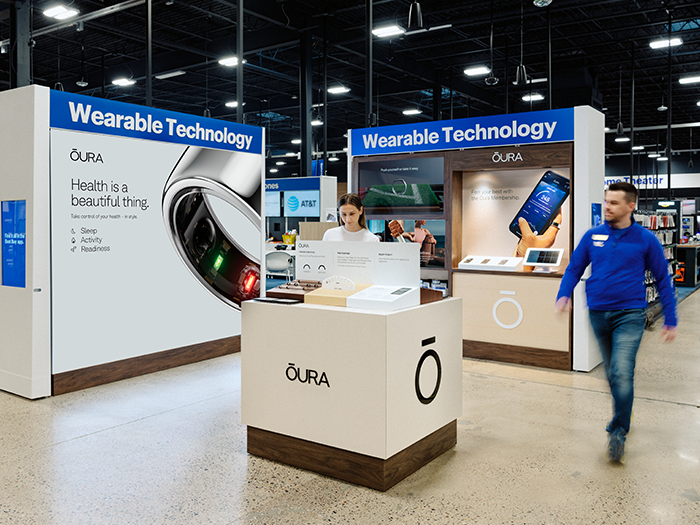 Earlier this year, ŌURA, the company behind the Oura Ring, a device that gives users personalized health data, insights, and daily guidance, announced its partnership with Best Buy for its first nationwide retail expansion.
Now the two companies are expanding their relationship outside of the U.S. for the first time, though they aren't going very far: on Monday they revealed that they will be bringing Oura Rings to 124 Best Buy locations across Canada.
Those stores will carry an inventory of Oura Rings in different colors and styles, including Heritage Black, Horizon Silver, Horizon Stealth, and Horizon Gold. Best Buy will also carry ŌURA's newest Horizon colorway, Brushed Titanium, which launched on October 10.
Like the U.S. partnership, customers will have access to in-person sizing, on-site inventory for purchase, and in-store pick-up options. The two companies will also team for an in-store presence that includes visual displays that showcase the features of Oura Ring and the value of ŌURA Membership.
In addition, 25 locations will also feature a "shop-in-shop" experience that includes educational videos, interactive experiences, and the ability to see and touch a variety of Oura Ring styles and colors.
Founded in 2013, ŌURA uses its device to measures the quantity and quality of rest, including sleep stages, schedule, and nightly heart rate, to provide an overall Sleep Score; activity, which means looking at all movement habits including calorie burn, heart rate, inactivity, and recovery time; and readiness, providing a Readiness Score that uses sleep, activity, and body stress signals, such as temperature and HRV, to predict how much a person can take on that day.
Oura recently, which entered into partnerships with Gucci, Strava, Natural Cycles, and Therabody, and launched a new product, Oura Gen3 Horizon, has raised $148.3 million in venture funding from investors that include Lifeline Ventures, Forerunner Ventures, Temasek, The Chernin Group, JAZZ Venture Partners, and MSD Capital; its most recent round, raised in April, valued it at $2.55 billion.
Most recently, at the 2023 HLTH Conference in Las Vegas, ŌURA launched Daily Stress and Stress Resilience, which allows members to understand when and how they experience stress and recovery in their daily lives, how to balance daily behaviors that build resilience and avoid the negative impacts that chronic stress can create over time.
As part of the launch, ŌURA partnered with Headspace to add stress-focused content to ŌURA's content library.
"Best Buy has been an incredible partner to us and we're excited to extend this collaboration internationally," Doug Sweeny, CMO at ŌURA, said in a statement.
"Our mission is to make health accessible and showcase the ability of ŌURA's technology to improve people's daily lives. We're proud to bring Oura Ring to customers in Canada and are looking forward to broadening our retail presence to more international markets in the future."
(Image source: ouraring.com)
Support VatorNews by Donating
Read more from our "Trends and news" series
November 29, 2023
Strategies for playing at online casinos
Read more...
November 29, 2023
The 5-year-old company is China's pioneer in the industry
Read more...
November 28, 2023
Nurses can add qualifications and preferences to their profiles, and set preferences for recruiters
Read more...
More episodes
Related News