Here's a list of 10 startup competitions, open enrollments for accelerators/incubators or angel groups all listed on VatorX, the biggest list of startup opportunities.
Want to list your startup competition or accelerator? List on VatorX. If you're a startup looking for competitions, bookmark the listing or join Vator to get a weekly update on what's happening around the world or near you.
If you want to receive email updates about startup competitions, accelerators or challenges, join the Vator community. https://vator.tv/join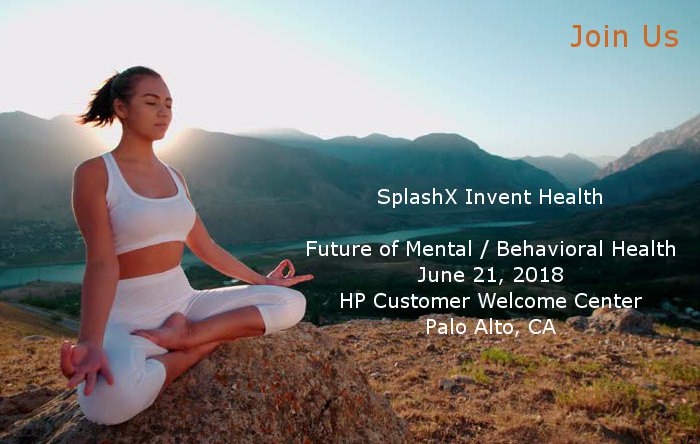 SplashX Invent Health - Future of mental health and wellness
Seeking startups revolutionizing our clinics and local care
Description: If you're a startup (with no more than $4M-$5M raised) with a vision of improving caregiving and wellness at our local clinics, while dramatically driving down costs, we'd like to meet you!
Benefits: Several startups will be selected to attend and present at SplashX Invent Health in front of a highly-curated, mostly invite-only group of healthtech influencers (investors, healthcare executives). SplashX Invent Health will be focusing on "The Future of Clinics."
Categories: Healthcare, Health and Wellness, Behavioral Health, Mental Health
The Startup of the Year program has been bringing together & showcasing early-stage startups since 2006.
Description: TechCo scours the planet searching for the world's most innovative early stage companies. After multiple rounds of competition, 100 semifinalists will get the chance to compete in our Startup of the Year Competition at the Innovate Celebrate Conference in California (final location TBD) in Fall 2018.
Benefits: We are finalizing the prize details, but you can learn more about our past competition's $250,000 worth of prizes, here.
Categories: Health and Wellness Education Government Employment Financial technology (FinTech) E-commerce Real estate Cloud Computing Sharing Economy Productivity Wearables Fashion Cyber Security Online Gaming Virtual Reality (VR) Artificial intelligence (AI) Software
DO YOU BELIEVE YOUR SAAS STARTUP IS READY FOR SCALE?.
Description: Are you a SaaS entrepreneur with a product in market? Have you established go to market fit with approximately $10-30k MRR? The L-SPARK program will grow revenue, infrastructure, market reach and opportunities through intensive SaaS workshops, one on one guidance from subject matter experts, and interaction with successful SaaS entrepreneurs.
Benefits: Founders have access to:
- A mentor with startup and software experience for 2 days per week
- Introductions to potential channel partners, clients and investors
- Business development and go-to-market strategy support (access to sales and marketing advisors)
- B2B SaaS workshops, practice pitch opportunities and other programming
- Discounted rates for infrastructure and software services
- Assistance with government grants and programs like IRAP, OCE, NSERC, SR&ED
- Virtual CMO and PR support, in addition to media coaching
- Virtual legal, CFO and IT support
- Office space, desks, communication services, fully-equipped meeting rooms
Categories: SaaS, Software as a service (SaaS), Enterprise software
EvoNexus San Diego Summer 2018
Strategic Funding for our Startups: Up to $250k Seed Capital
Description: EvoNexus is Southern California's leading startup technology incubator and hub for the startup community with locations in San Diego and Irvine. We empower motivated entrepreneurs to turn their transformative ideas into fundable, commercially-viable companies. Our results speak for themselves. EvoNexus is supported with Class A office space and facilities by California's leading real estate developer, Irvine Company and financially by global technology and life science corporations.
Benefits: We help you refine your pitch to be VC-ready through our educational workshops, pitch practices, and individualized pitch scrubs. We help hold you accountable to your milestones and support you in refining a realistic roadmap to success. Our brand attracts innovation leaders looking to connect SoCal's best startups with capital, strategic corporate partners, institutional investors and more.
Categories: Biotechnology, Clean technology, Electronics, Financial technology (FinTech), Energy, Medical Devices, Robotics, Software Security
Description: The DLV 'FIA Smart Cities Startup' is an international entrepreneurship contest for the world's most innovative and impactful technology companies. The goal of this international entrepreneurship contest is to identify, support and invest in the world's most innovative and impactful technology companies in the smart cities ecosystem.
Benefits: All cities hosting a Formula E round in Season 3 are invited to share a project that has contributed to the development of sustainable mobility through innovative policies and/or services. A panel of high-profile judges will select the most innovative projects.

Categories: Smart Cities Road Safety Internet of Things (IoT) Autonomous vehicles E-mobility Hardware Smart Infrastructure Big data Artificial intelligence (AI) Sharing Economy Digital
The grand prize winner will receive $5,000 as a cash grant for their startup.
Description: Women Who Tech is on a mission to fund women-led startups. Why? Because only 1.9% of Venture Capital (VC) funding went to women-led startups in 2017. For women of color (WOC), the numbers are even more dismal: 0.2% get VC money. These barriers are crushing women's economic power.
Benefits: Six finalists will be selected to pitch their tech venture virtually on our podcast before prominent investors. Our investor guest for this season is Adam Zuckerman, Director of Discovery Ventures. The grand prize winner will receive $5,000 as a cash grant for their startup.

Categories: Women leadership Startup Entrepreneur
Win $2K cash prizes and potential to pitch for up to 1.2 million in startup seed funding
Description: The Center for Advancing Innovation and MedImmune have partnered to launch the Freedom from Cancer Startup Challenge (FCSC). The FCSC will feature risk mitigated, and commercially viable inventions from leading research organizations. The goal of the challenge is to accelerate and increase the volume of commercialized cancer inventions by launching new startups. Funding is provided by the Laura and John Arnold Foundation.
Benefits: In addition to the licensing opportunity, 100 FCSC winners will receive invaluable networking, marketing assistance, enrollment in CAI's recognized accelerator program, mentorship from experts, and exclusive webinars from top industry professionals. FCSC winners will get access to these valuable resources and more beyond the challenge.
$1M seed fund to accelerate core technology startups
Description: SK Telecom Americas is the business development and venture capital arm of SK Telecom, Korea's largest wireless operator and a global technology leader, and has worked with some of the brightest minds in VC and angel investing – and some of the biggest technology companies in Silicon Valley – to design a novel and new funding model.
Benefits: Selected entrepreneurs can receive up to $1M as a combination of working capital, professional services (e.g. legal and financial), development tools, and dedicated/secured space in our state-of-the-art Accelerator.
One startup will take home the $25,000 grand prize and the prestige of winning LendingTree's Startup Showdown.
Description: LendingTree's Innovation Challenge on the main stage at LeadsCon Las Vegas is the Lead Generation ecosystem's most exclusive competition, bringing together compelling startups and technology innovators centered around consumer lead generation, call center, customer experience and more.
Benefits: Five finalists will be selected to demonstrate and present their next great idea to solve a problem connected with lead generation. An industry-leading panel of innovation captains and expert VCs will judge these live demos. Each company will have 5 minutes to pitch their solution and address the judges who will then award the winner of the grand prize, sponsored by LendingTree.
Get up to $250K to accelerate your life sciences startup.
Description: RebelBio is accepting applications for our next programme, which runs in Cork City in Ireland, an emerging life sciences and startup-friendly hub. From April through July 2018, enjoy the exciting, entrepreneurial atmosphere around global tech companies, a life sciences and medical excellence cluster featuring some of our graduate startups plus its own airport!
Benefits: On top of our cash investment, during the program, you'll have access to a fully equipped biosafety level lab, co-working space, dedicated membership and the support of a network of RebelBio alumni, investors, corporates and press partners.
Categories: Biotech Life sciences
The program offers funding for rapid prototyping, a collaborative workspace, and pairing with Honda mentors.
Description: Honda Xcelerator is a program designed for tech innovators across all funding stages who seek to transform the mobility experience. Honda has created this program to engage innovators in an open and friendly environment.
Benefits: We provide you with nre funding to help you develop a rapid prototype. You will gain access to our unique collaboration workspace located in the heart of silicon valley. All xcelerator companies are paired with our network of honda mentors. You will have access to xcelerator vehicles and vehicle data to develop, test, and refine your prototype.
Categories: Automotive, Hardware, accelerator, Artificial intelligence (AI), Cyber Security, Virtual Reality (VR), Voice technology
Description: Our two week program focuses on powerful customer discovery to inform decision making, leadership development to increase effectiveness and compelling story telling to achieve enrollment around the company vision.
Benefits:
A 2 week Silicon Valley immersion (March 4-17, 2018) in residence at Women's Startup Lab's exclusive Hito House (our female founder retreat in the heart of Silicon Valley) (room and board included)
A post-immersion monthly coaching call
A 3 day Alumni Reunion (~September 2018)
The ability to stay at Hito House for up to 15 days throughout the year for post-program funding activities
Free services from our partners (web services, email marketing, SMTP and more)
The opportunity to attend exclusive investor events and workshops
The change to re-engage! – Join any accelerator that we hold throughout the year (generally held twice a year)
The potential for introductions from our team for investor meetings and pitches (based upon your startup's readiness for funding)
Categories: : women leadership Startup Entrepreneur