E-commerce spending rose 16% this year, according to comScore
Cyber Monday spending hit an all time record high this year, according to data from comScore. On Monday, online spending reached $1.028 billion, marking a 16% increase from last year's $887 million, and setting a record for the heaviest online spending day in history. It is also the first time that online spending has risen above the $1 billion mark in a single day.
For the holiday season to date (the first 29 days of November), online spending has reached $13.55 billion, up 13% from the same time period last year. Surprisingly, Thanksgiving Day saw the hugest leap in e-commerce spending: a 28% jump to $407 million from last year's $318 million. Black Friday also saw a climb in online spending to $648 million, up 9% from last year's $595 million.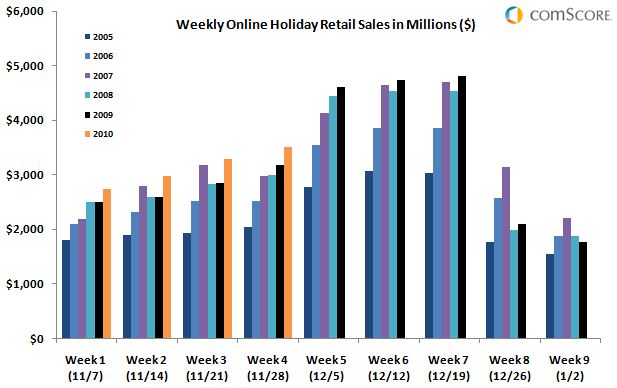 The Thanksgiving weekend as a whole (November 27-28) saw a 10% increase in online spending compared to the previous year, with $886 million spent on e-commerce sites.
Half of all of that spending came from none other than work computers. Don't think Big Brother isn't watching. He knows you just paid $19.99 for a nacho fountain.
ComScore chairman Gian Fulgoni has an interesting explanation for why e-commerce spending is so prevalent in the workplace the Monday after Thanksgiving. It was previously believed that people spent online from their work computers to take advantage of high speed Internet at work, so many believed that online shopping at the workplace would decline as more people were able to access a broadband connection from home. Despite the fact that broadband is accessible from home, online spending at work remains high. Fulgoni explained in comScore's statement: "It is more likely that consumers continue to shop from work primarily because by doing so they are able to shop for holiday gifts while minimizing the risk that their children, spouses and significant others might see what Santa will bring ."
Or they're bummed about going back to work after Thanksgiving. What better way to beat the blues than by pretending you're not really on company time? (I'm looking at you, California state employees.)
Other findings in the comScore report include an increase in individual spending. The number of people shopping saw little growth (4%), while the amount that each shopper spent this year rose 12%, while the average amount spent per transaction grew 10% to $60.05. The total number of transactions also saw some slight growth, rising 6% 17.1 million compared to last year's 16.2 million.
This year's record-high in e-commerce spending is due, in part, to retailers offering more deals and discounts this year. Data from a study conducted by ShopLocal last week reveals that retailers increased their Black Friday deals by 22% this year, setting a record high for the largest number of deals offered on a single day.
Support VatorNews by Donating
Read more from our "Trends and news" series
August 17, 2022
The company, which launched in July, built its virtual-first care platform with Epic
Read more...
August 17, 2022
The five year old company is now valued at $1.65 billion
Read more...
August 11, 2022
The company also unveiled its enterprise product, summarizing reports for clinicians
Read more...
More episodes