ComScore believes total online spending will grow 11% this holiday season
Good news from comScore. The digital business analytics company announced Tuesday evening that holiday e-commerce spending is up in the first weeks of November compared to the same time period last year, leading comScore to up its projection of total spending this year to an 11% increase compared to last year.
Between November 1 and November 21, $9.01 billion has been spent on online retail sites, compared to $7.95 in the same time period in 2009, marking a 13% increase. Money spent on travel, auctions, or corporate purchases is not included in the measurements.
Additionally, total online spending between January and October of this year has grown 9% to reach $109.9 billion, compared to last year's $109.7 billion.
This increase leads comScore to forecast that total online holiday spending will reach $32.4 billion this year, up 11% from last year's $29.1 billion. Initially, the analytics company projected that growth would be between 7% and 9%, but that has increased based on the rate of spending in the early weeks of November. According to comScore chairman Gian Fulgoni, online spending totals are already surpassing those of 2007—before the recession—which leads comScore to believe that this season will see record sales.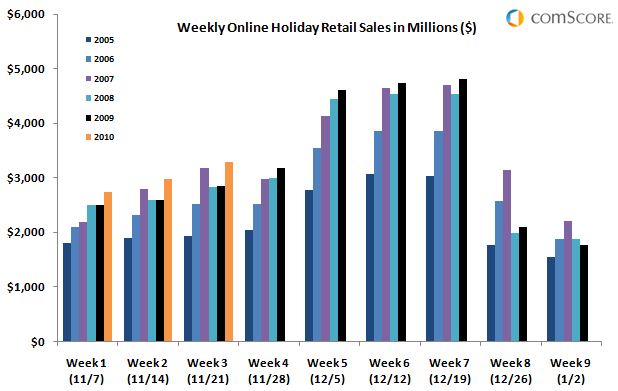 "The beginning of the online holiday shopping season has gotten off to an extremely positive start, outperforming our earlier expectations," said Fulgoni in a prepared statement. "Despite continued high unemployment rates and other economic concerns, consumers seem to be more willing to open up their wallets this holiday season than last. While this early spending surge reflects, in part, heavy promotional activity on the part of retailers occurring earlier this season, it is nevertheless a very encouraging sign."
A survey of shoppers found that some 36% of respondents report seeing more deals this year from online retailers compared to last year, compared to 11% who believe there are fewer deals this year. A number of online retailers are offering free shipping this year, and when asked about how important free shipping is to them, a full 77% of polled shoppers said that it is somewhat or very important. 12% said they were unsure, and only 1% said that free shipping is "very unimportant."
Support VatorNews by Donating
Read more from our "Trends and news" series
March 24, 2023
The five-month-old company has big plans for the housing and contractor industry
Read more...
March 23, 2023
The company's wearable uses light and sound to restore electrical activity in the brain
Read more...
March 22, 2023
MyPanera members will be able to both pay and access their rewards in-store via a palm scan
Read more...
More episodes
Related News