Facebook partners with Context Optional to offer deals on new Universities page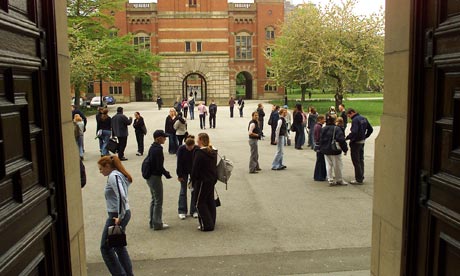 With 500 million users, it sometimes feels like Facebook has become the distant parent who works all the time and has forgotten its favorite children: the college students. But Facebook is returning to its chosen ones.
The social-networking titan launched Monday a page exclusively for universities.
Many will likely recall when they first joined Facebook as a means of connecting with group project partners. It was so much easier than having everyone rip pages from their notebooks to exchange numbers and campus email addresses. The Universities page returns to that simple connectivity by offering a range of different tabs to facilitate connection and collaboration. There is a Press tab for campus publications, a Community tab for student clubs and organizations, a Sports tab for university sports teams, and a Student Government page. According to the Web site: "This Page is dedicated to helping students establish an interactive presence on Facebook by engaging with their campus community."
But Facebook is not just replaying old tunes. It is taking the student experience a step further by partnering with the social marketing company Context Optional to offer a Deals tab, where students can get discounts on items ranging from laptops and printers to toilet paper and Cheerios. Vendors include Eddie Bauer, Newegg.com, Alice.com, Bling.com, ModCloth, and Utrecht Art, among others.
Created in 2006 and based out of San Francisco, California, Context Optional works with brands, agencies, and publishers to launch major marketing campaigns exclusively on social networking sites, like Facebook. Context Optional collaborates with clients to build social marketing strategies such as creating brand pages, developing applications, and developing consumer promotions like contests and polls. Current clients range from McDonalds and Target to the U.S. Census 2010.
The deals listed on Universities on Facebook are available for a limited time only -- some lasting until the end of September while others expire next week. Current deals include 25 percent off online purchases at Eddie Bauer, 15 percent off purchases at Alice.com, and a $25 gift card with select laptops on newegg.com.
In a way, it's a little bittersweet, considering that the college student demographic was where Facebook found its home, and for which it now must clear some space by relegating it to a specific page. Other companies are springing up to fill the void, such as Trumpet Technologies, a startup that is developing Scoop, which will allow users to find last-minute events on campus. Trumpet Technologies was recently backed by Eric Schmidt's TomorrowVentures, but the terms were undisclosed. Another social network, CollegeOnly, backed by PayPal co-founder Peter Thiel (who will also be speaking at Vator Splash on September 30), also launched last week.
It is telling that Universities on Facebook, CollegeOnly, and Trumpet Technologies' Scoop have all launched in time for the start of the new fall semester. It's almost as if they are all trying to woo the forgotten children.
Image source: guardian.co.uk
Support VatorNews by Donating
Read more from our "Trends and news" series
March 24, 2023
As part of its Instacart Health initiative, the company also debuted new tools for providers
Read more...
March 17, 2023
The intiative will include classes on using MyChart, as well as a Chromebook borrowing program
Read more...
March 14, 2023
Patients will be matched to a physical therapist and be able to get therapy in their home
Read more...
More episodes